Introducing 1663 Resolve™: Affordable, Reliable, and Enriched Asset Tracking
1663™, the Internet of Things (IoT) arm of Nova Labs, is excited to announce 1663 Resolve™ ("Resolve"). As an innovative, custom-built solution, Resolve enables data-rich asset tracking and insight management to support a large variety of sensor types, location features, and system integrations.
This patent-pending solution delivers immediate upgrades to traditional tracking applications, including:
Affordability - Cost-effective devices and connectivity
Reliability - Accurate data provided by long lasting sensors
Visibility  - Powerful dashboards to better understand nuances of the data
Whether tracking perishable produce throughout the supply chain, or monitoring an important delivery in transit, asset tracking solutions represent one of the core use cases of what's possible on the Helium Network. With over 450,000 active Hotspots online across the world, the people-powered Helium Network provides the robust coverage required to ensure reliability at a global scale.
With this in mind, 1663 has made helping organizations track their assets one of its top priorities. Resolve-enabled sensors offer long range communication, years of battery life*, and simple implementation.
*Battery conditions may not reflect real-world usage. Actual battery life may vary depending on uplink frequency and additional factors. "Years of battery life" is an estimate given that a device uplinks 1-2 times an hour.
Why Asset Tracking?
Based on a recent study , the global IoT-supported asset tracking market is expected to account for 90% of all connected enterprise and industrial solutions by 2030. Unfortunately, many challenges exist with traditional location tracking solutions, such as low battery life and expensive hardware/connectivity.
Furthermore, this study reports that while fleet tracking (standard location tracking) makes up 80% of the market, non-fleet tracking (use cases such as location enriched temperature monitoring, smart buildings, etc.) is growing 18% faster. While asset tracking is the dominant use case, it is clear that businesses are looking to optimize their solutions with other metrics as well. Unfortunately, this often requires one sensor for location data and one for non-location data, meaning double the hardware costs and double the time before systems are operational.
Our hypothesis: While tracking non-location metrics provides clear value for businesses, enriching that data with location features is a critical component missing in the industry today.
Thanks to the LoRaWAN ecosystem, the development of more affordable, long-lasting sensors have arrived on the market in recent years. Combining these new sensors with the global coverage of the Helium Network allows developers to innovate as the density of the Network can remove the need for expensive cellular connectivity or user-deployed gateways.
Based on this data and industry trends, the 1663 team went to work building, and today we are excited to share our new, customizable, end-to-end, location-enrichment solution: Resolve. Resolve is built on three key pillars: an innovative algorithm, enriched datasets, and a customizable user experience.
Traditionally, the most accurate way to track an asset's location was by utilizing sensors with built-in GPS. However, these GPS devices suffer from expensive hardware, poor battery efficiency, high cellular connectivity, and are often bulky in size.

Resolve's location-enrichment removes these obstacles by using the signal strength of nearby gateways to approximate location, which allows this data to be inferred for any device connected to the network. This removal of GPS requirements ushers in a new wave of radically cheaper tracking devices that prioritize longer battery life and lower costs, while adding valuable additional metrics like temperature, humidity, accelerometer, and vibration data. Combining Resolve with the massive density of the Helium Network opens up the asset tracking market to a greater number of businesses and use cases.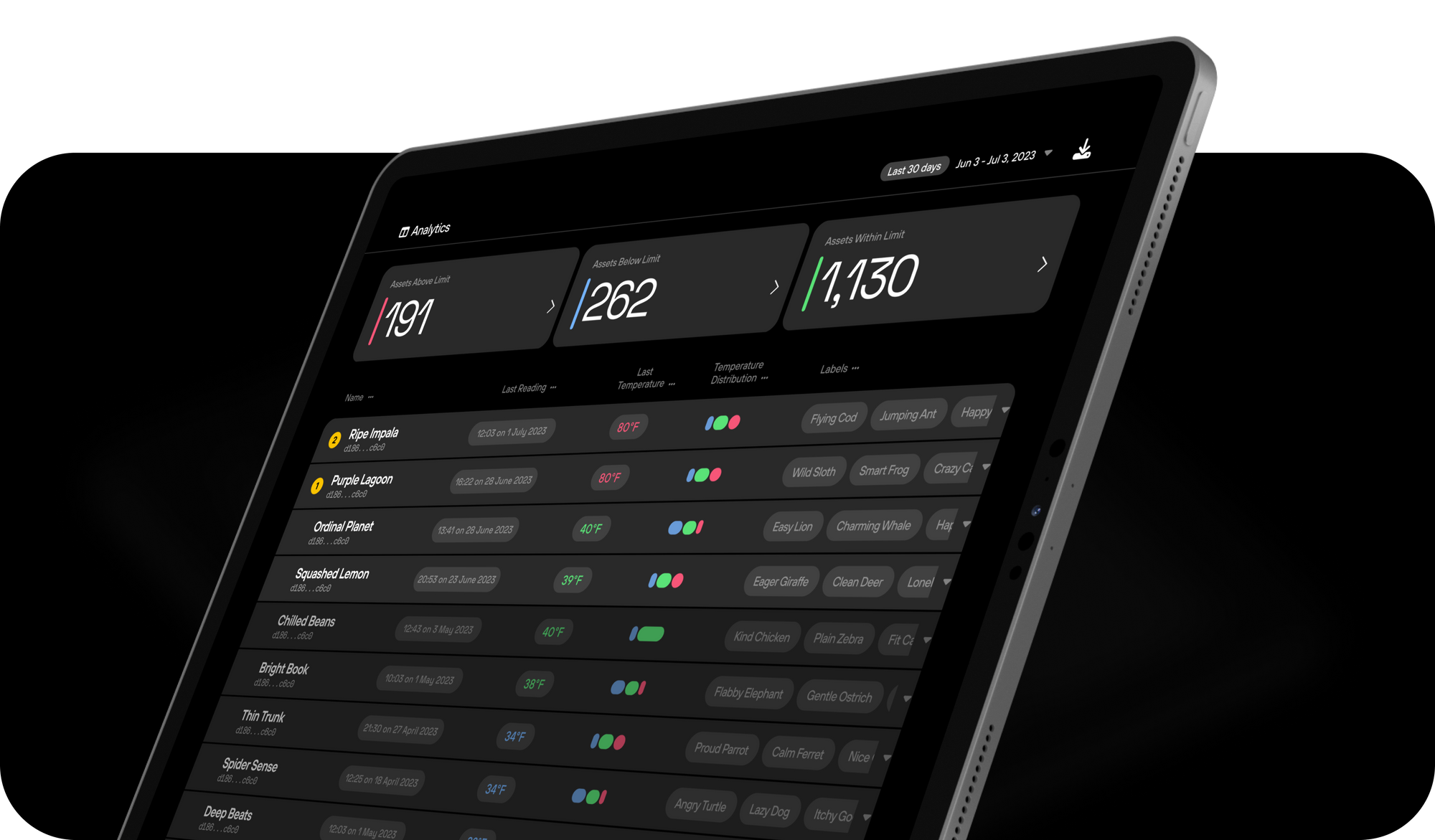 Innovative algorithm
Resolve uses a patent-pending algorithm to provide estimations of the location of a tracked asset on the Helium Network without needing GPS-based sensors. Instead the algorithm uses RSSI (received signal strength indication) and SNR (signal to noise ratio) to estimate a location. This results in smaller, lower-profile, affordable sensors with longer battery life.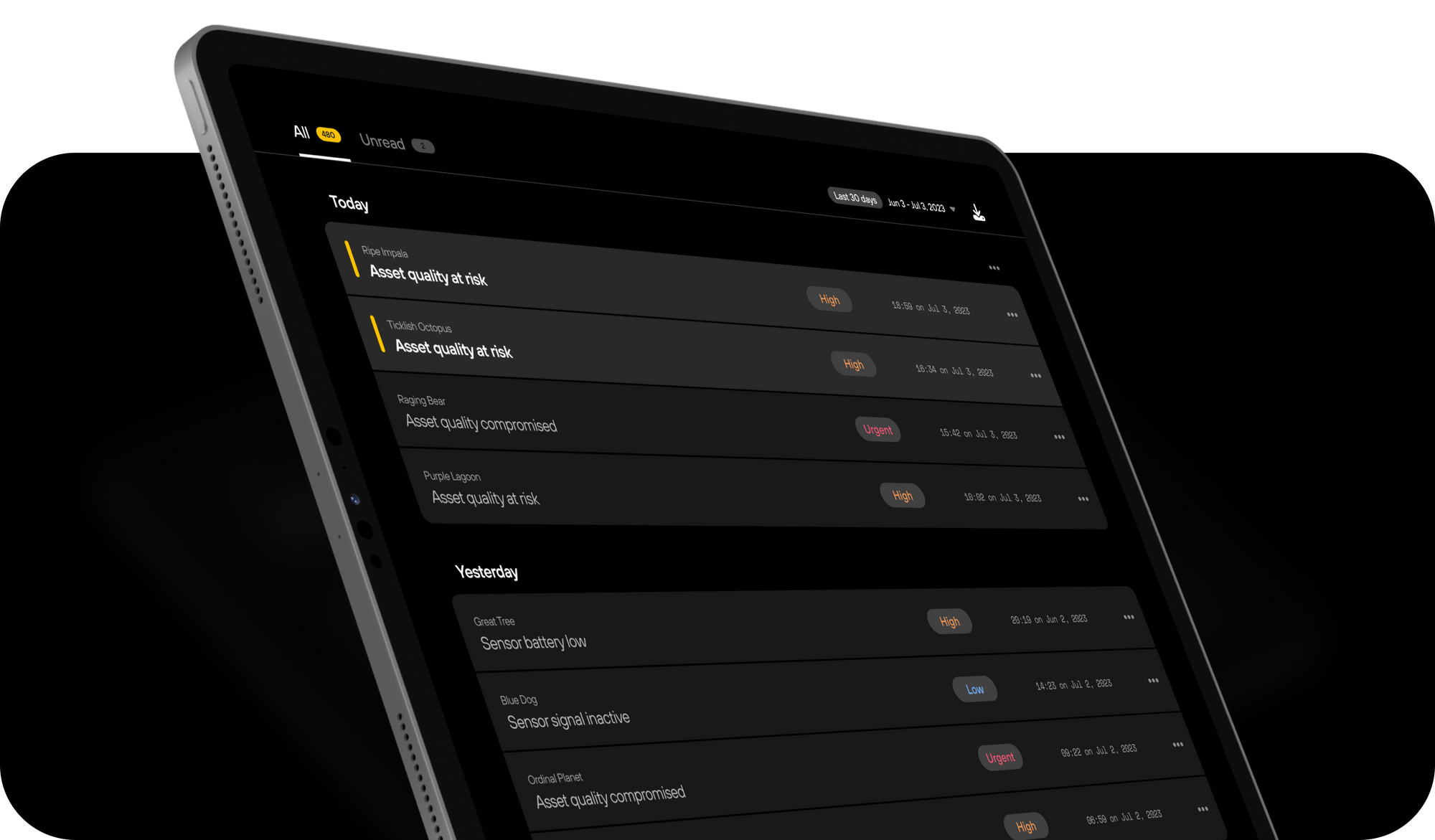 Enriched datasets
After working with one of the largest grocery chains in the United States, it became clear that location data isn't the only metric that large enterprises find valuable when tracking assets. In this case, monitoring produce temperature while in transit was just as valuable as the actual location data. Discussions with additional customers validated the desire to collect other critical datasets, such as speed/acceleration metrics for determining package tampering and poor handling. Instead of building custom one-off solutions for every unique metric, Resolve was built with these features in mind by offering the ability to collect location data utilizing any traditional LoRaWAN sensor.
Customizable user experience
Finally, Resolve uses intuitive dashboards and visualizations to bring the enriched data to life.
Companies care more about the value the data brings to their business decision making than the technical details of how it's collected. Resolve's dashboards help separate signal from noise and provide insight into the information companies care about, enabling business decisions with innovative user experiences that make the data easy to understand, audit, and leverage. Offering full customization, the team at 1663 is prepared to tailor these dashboards to fit any business need.
1663 Resolve: The Future of Asset Tracking
Combining an innovative algorithm, enriched datasets, and customizable visualizations, Resolve is a powerful solution that changes the landscape of the IoT asset tracking industry. To learn more about 1663 Resolve, schedule a demo, or explore additional end-to-end solutions offered by 1663, contact us today.
Email us at sales@nova-labs.com or visit our website at 1663.io
To learn more about Resolve, register for the webinar on 8/10:
FAQ
Q: What is 1663 Resolve?
A: Resolve is a new standalone solution from 1663 focused on delivering GPS-less, location-enriched, and customized tracking solutions to enterprise companies. The specific components of Resolve include:
An innovative algorithm, which removes the requirement for expensive and power hungry GPS sensors.
Enriched datasets, which collect multiple types of meaningful data.
Customizable dashboards, which help enable better business decisions.
Q: What does "Location-Enrichment" actually mean?
A: Location-Enrichment means taking basic metrics (such as temperature and humidity) and enhancing them with location data. Using Resolve, a distribution company can observe not only the specific temperature of their shipment throughout the supply chain journey, but also the location of it in transit.
While solutions like this were previously possible, they required multiple sensors and dashboards to collect and analyze these metrics, increasing the overall time and cost. Resolve optimizes this process by taking basic data, enriching that data with specific location metrics, and providing one seamless dashboard where the outputs of this data can be leveraged for better business decisions.
Q: Can I use Resolve with existing sensors? If so, are there any updates required?
A: Yes, Resolve can be used with existing Helium compatible sensors. No proprietary hardware required! Please note, our team members are happy to work with your company to help identify  compatible sensors.
Q: Can I use Resolve with existing asset tracking sensors?
A: Yes. While the patent pending algorithm enriches non-GPS sensors with location data, use cases that require a higher degree of location accuracy can still use Resolve with traditional GPS devices. Additionally, non-LoRaWAN protocols such as Wi-Fi or LTE can be leveraged as backup for enhanced coveraged.
Q: How much does Resolve cost?
A: Not only is Resolve competitive, it is significantly cheaper than more traditional options built on private LoRaWAN or old school cellular carriers. The cost to use Resolve is based on the scope of the project. To learn more, please contact our sales team at sales@nova-labs.com, or you may submit a form directly on the 1663.io website.
Q: Is Resolve included with 1663 solutions?

A: Yes! Resolve is one specific solution from 1663. If potential customers have use cases or projects that fall outside the scope of Resolve, we are happy to build solutions for those as well. 1663 solutions are not solely limited to just Resolve.